What's Inside?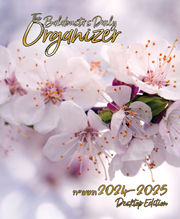 The Balabusta's Daily Organizer contains — of course — weekly and monthly calendars for 16 months, and much more. Each weekly spread has plenty of room to write down your schedule and appointments. All Jewish and American holidays are noted, as well as the weekly Parsha. The weekly section also has ToDo lists, shopping lists, menu plans, and an inspiring quote.
In addition,The Balabusta's Daily Organizer contains many useful quick reference features:
Year at a Glance: 16 months on 1 page (September 2016 through December 2017) showing Jewish and USA Federal holidays.
Candlelighting times for more than 2 dozen cities in the USA, Canada, England, Israel, South Africa, and Australia
Notes: 10 pages
Address/Contact Info: 10 pages
Medical Contact Info: 2 pages (for your Drs, pharmacy, etc... very useful!)
Weekly Routine: for entering regularly scheduled errands and tasks
3 week menus: another way to put some order into your cooking
Recurring Shopping Lists: where you can write down items you regularly purchase at specific stores.
Birthdays.
Shabbos checklist: write down what you need to have done before Shabbos begins
Borrow/loan record.
And a few other odds and ends, including Tips for maximizing your use of the Organizer, and the 6 Constant Mitzvos.

Weekly Spread


Weekly Routine